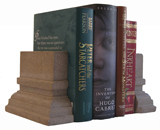 Kidalog Find a novel that's right for you at your local school







---
How to Use the Kidalog
Using the Kidalog to find a new novel is easy! You can use it to browse the themes and genres most interested you.

Browse the list of themes and genres to see what you find interesting. Try new categories. You are developing your taste in literature, and now is a great time to experiment.


Within a theme/genre, choose a sophistication level (age range) that appeals to you right now. You'll probably want to try different sophistication levels depending on how much depth you want in a book you'll read today. An (8-11) book is right for most third graders, but they'll often choose a (7-10) book for fun. A fourth grader might choose a (9-12) book if he/she is looking for complexity, an (8-11) book for fun, and a (7-10) book if he/she is looking for something light and quick. I encourage you to stay within the recommended age range so that you're most likely to appreciate the subject matter. There's plenty of time to read the "older" books when you can best relate to them. And if you can't wait, try reading them again when you're older; you might relate to them differently the second time.


Browse the book/series descriptions for those that interest you.


Note the call numbers.


Look for the books in the fiction section of your library, arranged alphabetically by call number.


Tell your friends (and your librarian!) about the books you enjoy.
Return to the theme/genre index for your school
August 25, 2012